The Ultimate Skillshare Review for 2020
Matthew Turner
If you're a creative type, we may have the perfect online course platform for you!
It's not only perfect for students in creative industries, but also teachers, coaches, and course creators that wish to bring their art form to life.
But before we get to this platform, why should YOU care?
Do YOU really want to become an online course creator? Do you have the time? The experience? The necessary skills?
Maybe you do. Maybe not. By the end of this article you will know, and if your answer to all three of these questions is "yes", then now is the time for you to create your online course. Over the next few years, it's set to become a $325 billion industry. That means it's just a matter of time until celebrities, popular influencers, and large multinational brands join the party.
It's already happening. The online course platform we focus on today has had creative teachers like:
Marc Ecko
Seth Godin
Young Guru
Jessica Hische
Guy Kawasaki
Paula Scher
Yuko Shimizu
Soon, it will become impossible to stand out as a course creator. Unless you already have a huge following (or an endless budget), you'll struggle to build momentum. Whereas right now being a course creator has the power to turn you into a thought leader, expert, and influencer.
We've seen this happen countless times as we work with our clients and students.
Some enjoy greater success than others, but everyone who approaches the process the right way builds a brand that helps them grow. So if you're curious about what an online course could do for you, keep reading. If you're a creative type, this Skillshare Review is what you need.
This is what we'll focus on in this Skillshare Review 2020.
Let's begin by diving into what Skillshare actually is…
What is Skillshare?
Skillshare is an online learning community for creators and freelancers.
With dozens of categories covering the Creative Industries (as well as Business, Technology, and Lifestyle), there are thousands of classes for your students to choose from.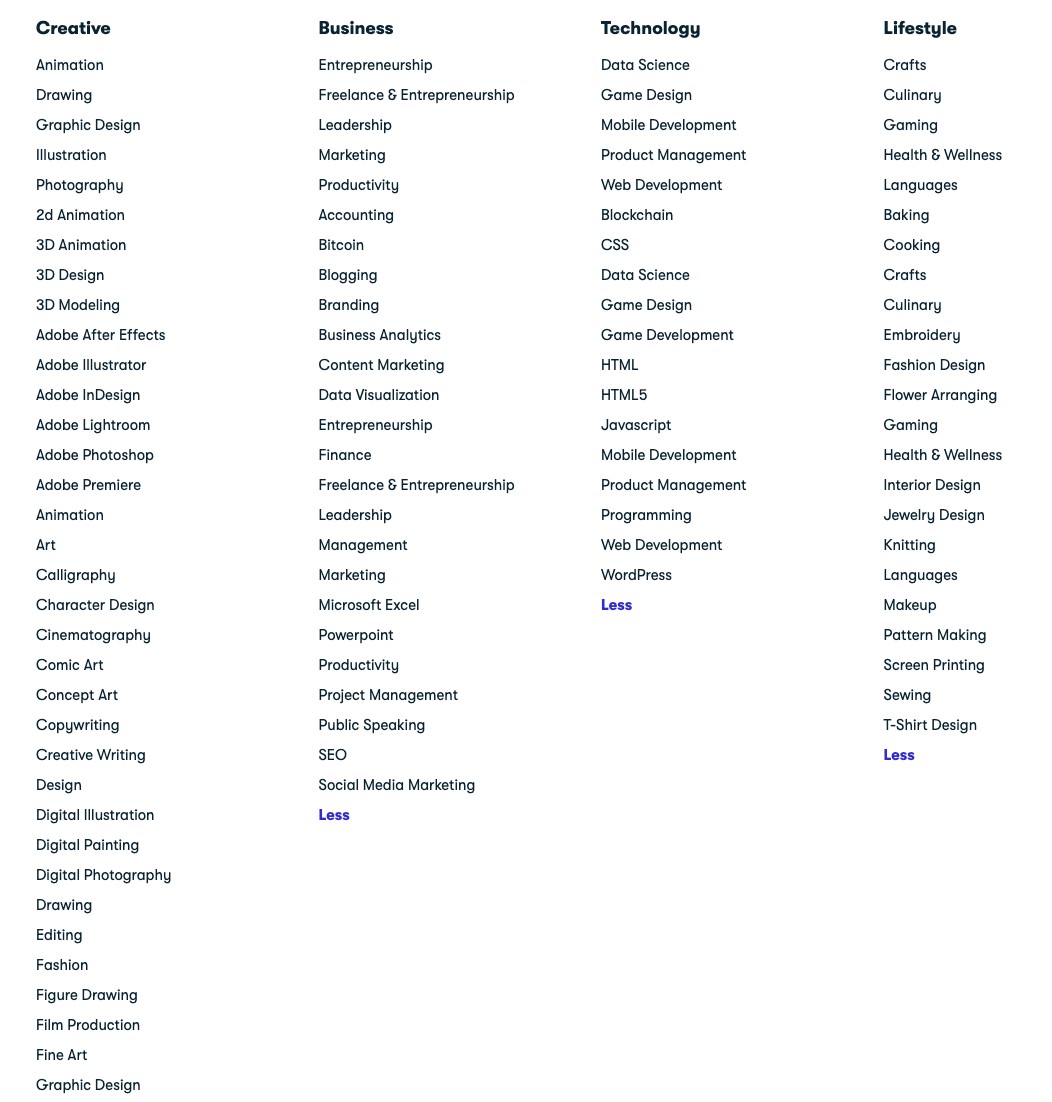 What makes Skillshare different from a lot of other platforms is that a student purchases a subscription and then has access to any course they like. In this way, it's like the Netflix of the online course world.
It's similar in price to Netflix, too, starting at around $8 per month. There are free courses available to students, but these often come with ads and/or only cover part of the course material. So although some of your future students may access your course for free, most will be part of the Premium Community.
Overall, Skillshare is a low-cost and potentially a very high-value way of learning. It's considered one of the best online course platforms for students, especially those in the creative industries.
But what about you? How do you, as a course creator/teacher benefit from Skillshare?
Skillshare Review: What YOU Can Earn
As a Teacher on Skillshare, you earn money based on a royalty system.
Each month, between 30% and 50% of Skillshare's total Premium Membership revenue goes to a royalty pool for teachers (the rest of the money goes toward marketing and website improvements).
This pool of money does vary each month, so it's hard to say how much you'll earn on Skillshare. The more members Skillshare has, the bigger the pool for the teachers. A lot of this is out of your control, but not completely (as we'll soon see).
However, the actual revenue YOU earn depends on how popular your courses are.
The more students you have watching your videos, the more money you earn.
So although your earnings are tied to how many paid subscribers Skillshare has, you can earn more than everyone else if you create high-impact courses that produce positive results. But this isn't the only way you can earn money through Skillshare, because you also get $10 for every student you refer to the platform. This is a win-win for you, because not only do you get a one-time referral fee but also help grow the total number of students on the platform (meaning a bigger pool for teachers).
So, yes, much of what you can earn is out of your control. Skillshare has an entire marketing team dedicated to growing the platform. The more successful they are, the more success you get to enjoy. Yet you can help this process, and it can lead to a decent income for you each month.
For example, let's say your courses account for 10% of ALL minutes watched by Premium students across the platform each month. If the teacher pool for the month is $150,000, you'll earn $15,000.
This is on the high end of the scale, but Skillshare does provide an open and transparent process that they say earns its top teachers $3,000+ per month and those just starting out $200 (in their first month).
It's a good way to earn a passive income stream as a course creator. So, how do you create your course?
Skillshare Review: How to Create Your First Course
To begin with, you need to create a new Skillshare account.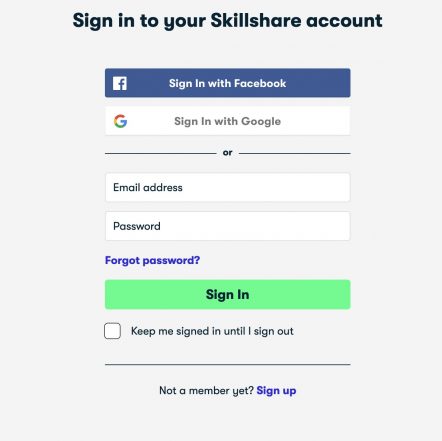 Once you're signed in, the process can begin.
Step 1: Choose your category.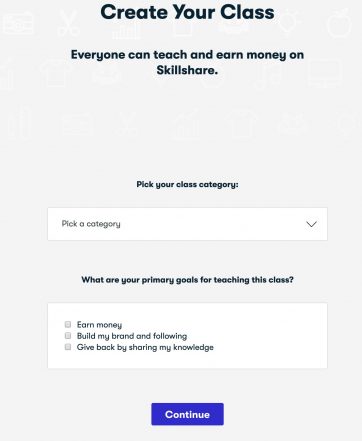 Step 2: Fill in your Class Info, starting with your Class Name, Description, and Project.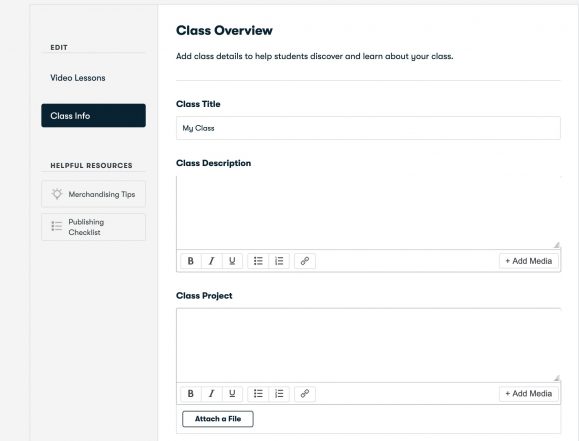 For help planning your class and creating your Class Project, you may find the following resource helpful (click here to open in a new tab).
Step 3: Choose your Class Type, Skill Level, and Categories.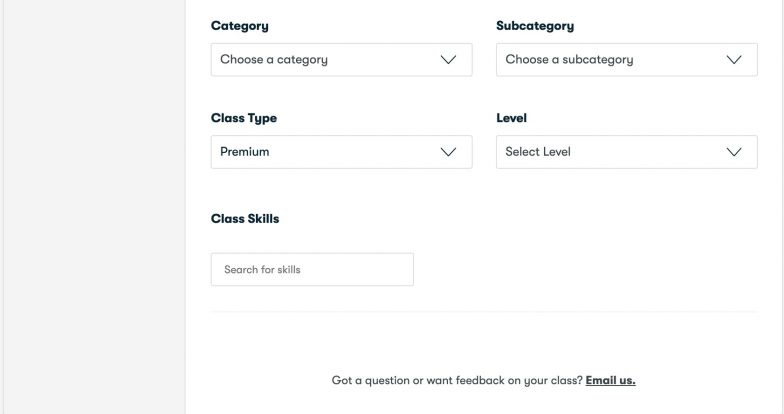 Step 4: Save your Class Info and then upload your first Video Lesson.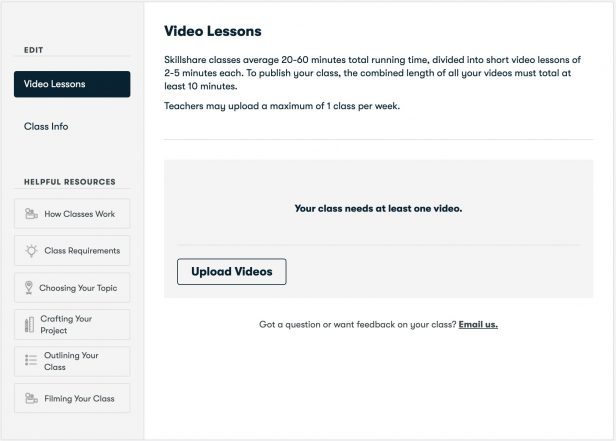 On average, Skillshare Classes last between 20 and 60 minutes, yet it's advised that you split this into smaller 2 to 3-minute videos (your class must total at least 10 minutes in length).
Unlike other course platforms, you cannot upload additional class resources, run quizzes, or publish audio descriptions/interviews. Focus is solely on video!
For further help on creating your first Skillshare Class, consider these resources:
Once you've created and built your first Class, click Publish and make sure everything looks and works as it should. Once complete, your Class layout will look something like this:
In terms of speed and ease, Skillshare certainly makes your life easy. Without the worry of additional resources and creating materials for each video, you can quickly create and upload your Classes.
(Note: a teacher can create a maximum of one new class per week).
It's a platform that focuses on practicality for both teacher and student. The aim is to create lots of small, bite-sized lessons that can help someone take action NOW. For some course creators that like to go into depth, this isn't ideal.
But for creative course creators who like to create and teach at pace… it's perfect!
Skillshare Review: Key Features and Core Benefits
Most online course platforms share many of the same features, yet they all offer something unique.
Skillshare is no different. Here are a few key features and benefits that stand out.
1: A Community Designed for Creatives
Skillshare is a platform taught by creatives, for creatives.
Many course platforms include the creative industries, but few serve them as Skillshare does. Almost all their courses focus on creating, building, and designing.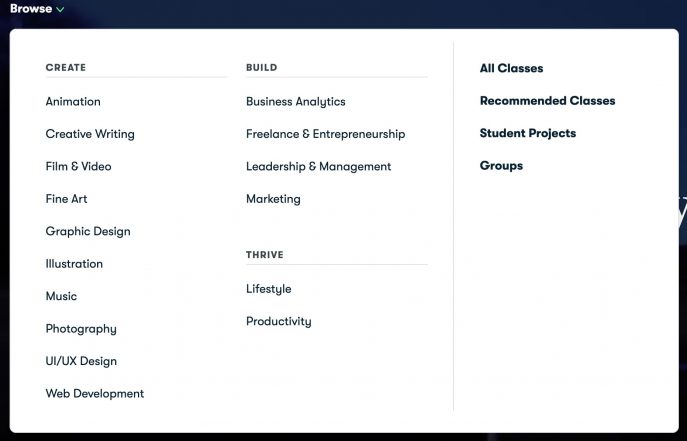 As such, Skillshare doesn't make sense for a lot of people. Yet for those it does, it REALLY makes sense.
It guarantees that you'll work with like-minded students who care about what you teach. This helps build a better community of people where everyone helps everybody else. We've found that community plays a huge role in a course creator's success.
Through Skillshare, you get access to an existing community of people that work together.
2: An Excellent Resources Section for Course Creators
Again, all online course platforms have a resources section, but few provide one to the extent Skillshare does. The Resources they provide their teachers are comprehensive to say the least.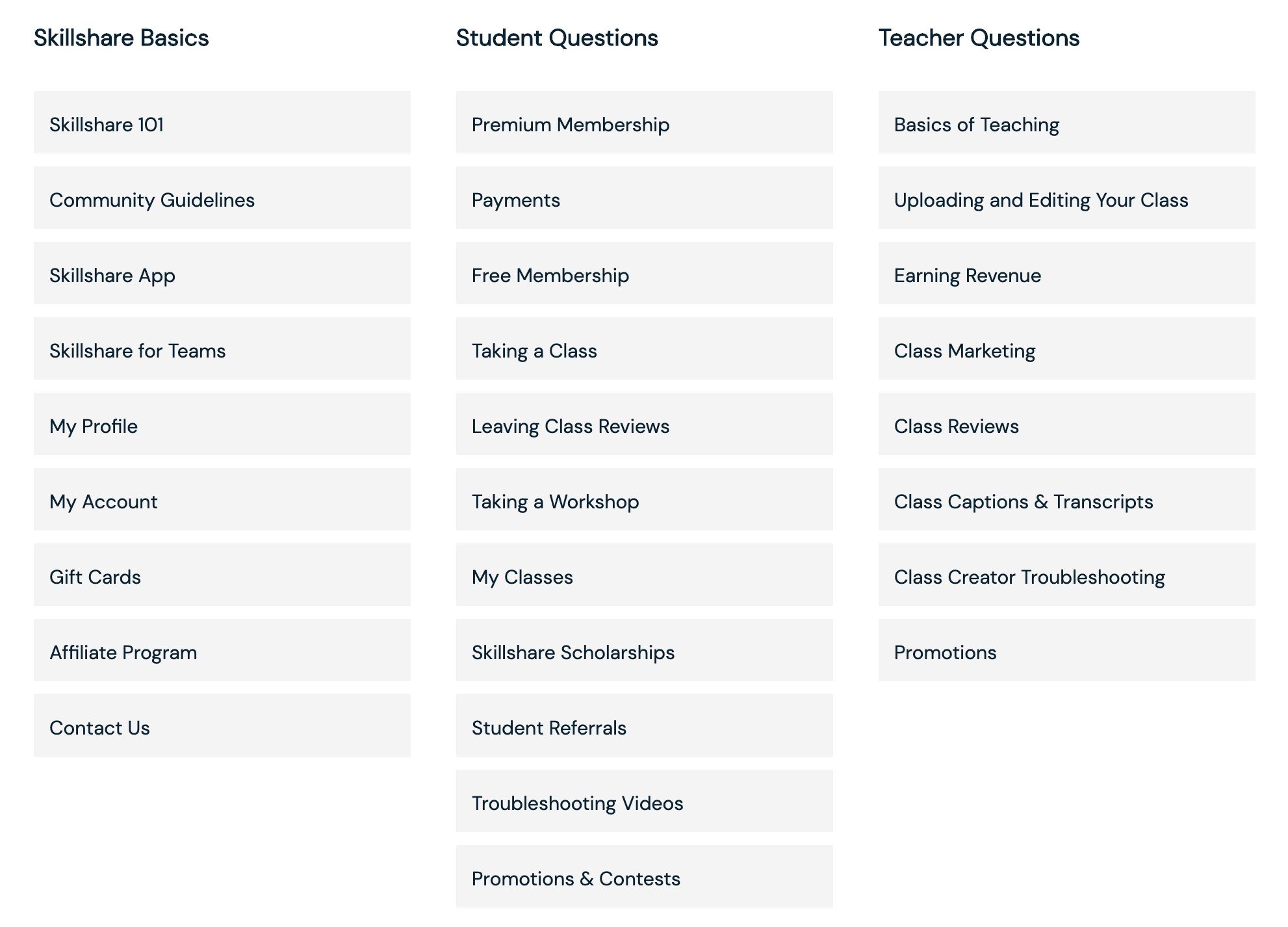 They show you how each part of the process works and guide you through it every step of the way. This sets you up for success, rather than leaving you to figure it out on your own.
For someone who may not have created an online course in the past, this could prove very valuable.
3: A Strong Focus on Project-Based Learning
At Skillshare, everything surrounds Project-Based Learning!
This is how they describe it:
A project-based class walks students through the process of creating something. We believe that learning by doing is the best way to gain new skills and expand your creativity. By the end of a project-based class, not only have you learned a new skill, but you have something awesome to show for it.
This works hand-in-hand with their focus on the creative industries. They want teachers who guide rather than simply talk. Anyone can learn about anything online, but much of this content is confusing and raises more questions. Skillshare wants its students to know what to do next.
This requires you, the teacher, to SHOW them!
It's a great focus, and it truly does lead to positive results. We encourage all of our own students to focus on this type of learning. It's great from a social proof and testimonial perspective, but more importantly… it has a greater impact on those you serve.
That's the whole point of creating your online course, right?
4: A Big Emphasis on Shorter, Practical Online Courses
Some online courses do need to go into depth. However, most end up far longer than they need to be.
Just like a book, an online course needs editing. You need to trim the fat. You need to leave your students with only what they need. Skillshare guides you in the right direction in this regard because they push you to create short, sweet, and practical lessons.
They don't want twenty minute videos. They would rather you record four videos that last a few minutes each. This forces you to think about everything you create.
Is it needed?
Does it need to be this long?
Will this impact my students, or could they live without it?
These are the questions all course creators should ask, but few do unless someone makes them.
5: A Referral Program Designed for Teachers to Attract Students
As we've already mentioned, you get $10 for each new student you refer to the Skillshare platform.
This is a great additional way to make income (especially as you build your own following and email list), yet beyond the money, it helps bring you closer to your students. Some of them will find you on the platform itself, but this gives you the ownership to find students elsewhere and bring them to you.
If you wish to build a successful career as a course creator, you need this kind of ownership. If all you want to do is create a single course and leave it… fine. But if you want to create many courses that have a huge impact for years to come, you need to OWN the process.
FREE Course Builder's Bootcamp!
In just 6 days, learn all the essentials to create a successful online course!
Skillshare Review: Pros and Cons
As with any online course platform, there is the good and the bad. No platform is perfect, so it's about YOU finding the most perfect platform for you, your business, and your students.
Skillshare offers many positives, but also a few negatives. Let's focus on some of them.
PRO: Anyone Can Become a Teacher
Some platforms require a certain level of experience, which is a positive if you have a lot of experience to offer. Yet if you're still building your brand and looking for ways to gain authority, this can back you into a corner.
Through Skillshare, anyone can become a teacher.
They offer you a chance. Of course, they can always delete your profile and ban you if you begin to use black-hat tactics. But they give their teachers a chance to teach. Some rise to the top and become successful, many others remain toward the bottom.
It's up to you where your journey takes you. Skillshare gives you an open platform to a very large student marketplace ready to learn. Do you have what it takes to teach them?
PRO: A Strong Community for Both Teachers and Students
As we've already touched upon, community plays a large role in Skillshare. It's a community of creatives who share common interests. This is not only beneficial for students but for teachers, too.
As a course creator, you want to build a rapport with your students.
It's the community you are a part of that directs this…
Is every course on Skillshare full of engaged students? No. But in essence, it's an engaged community of people ready to learn so long as someone comes along and inspires them. The ball is in your court, but it's a ball that many other platforms do not give you.
PRO: A Very User-Friendly Experience
Overall, Skillshare is simple to use (and navigate) for both students and teachers.
This is a huge positive because it means you have to spend less time learning how to use the platform, leaving you more time to teach, explore, and do whatever you want with your life.
We see too many platforms overcomplicate the process. Skillshare isn't one of them.
PRO: The Perfect Platform for Creative Types
We've said this already, but Skillshare truly is the perfect platform for creative types.
If you fit into this category, you'll join a community of both students and teachers who share similar interests, values, and ambitions.
CON: Courses Are Not Accredited
When someone completes a course on Skillshare, they don't get an officially accredited certificate. This is a negative for the student more than it is for you, but what impacts your students ultimately comes back to impact you.
Accreditation isn't as important these days as it once was.
Employers care more about the skills you have rather than the qualifications you've gathered.
Still, this will play into your students' decision process.
CON: The Inability to Upload Additional Resources
In a way, this is a positive because it forces you to keep your course simple.
Yet there are times when you would like to create an additional workbook, quiz, survey, or challenge. Such elements help bring your course to life, engaging your students on a deeper level. Yet you cannot engage your students like this on Skillshare.
It's all about the videos you upload. Nothing else comes into the equation.
For many course creators, this is a red flag.
CON: Low-Cost Courses = Hard for You to Make Consistent Money
Although you can make decent money on Skillshare, it's hard for you to make life-changing amounts. You're always dictated by how many paying subscribers there are, and these paying subscribers only pay $10-$15 per month.
For access to multiple online courses at one given time, this is cheap.
As a result, this can have an impact on you and your ability to make money.
Many course creators create new services on the back of their courses: coaching, consulting, membership sites…
It's hard to do this when you have a group of students who value your courses at a few dollars per month. You may produce the best course the world has ever seen, yet on a site like Skillshare, it will always have a perceived low value.
CON: It's the Perfect Platform for Creative Types
If you're not a creative nor do you serve those in the creative industries… well, Skillshare isn't for you.
FREE Course Builder's Bootcamp!
In just 6 days, learn all the essentials to create a successful online course!
Skillshare Review: Key Takeaways
As we bring this Skillshare Review 2020 to a close, you should begin to see whether it's the online course platform for you. It offers many benefits but comes with several limitations.
Here are a few key takeaways that cover what we like the most (and what we like the least).
What We Like Most About Skillshare
The Community/Marketplace: When you publish your course on Skillshare, you get access to an established community of creative learners. If you're still building your following, this could be your best option to finally make a name for yourself.
Easy To Use: Skillshare really is easy to use, manage, and maintain. It gives you the freedom to do what you do best, not having to worry about aspects that don't have an impact on your or your students.
Project-Based Learning: Skillshare wants you to help your students. They don't care about your upsell opportunities or how you want to build your own brand. They want you to have a big impact on those you teach. This is great because it is this that will help you achieve all the success you desire.
You're Not Alone: If your students come across an issue, Skillshare's support team is there to help. If you personally come across a problem, they are there to help you. This gives you more time to work on other projects — including your next online course.
What We Like Least About Skillshare
Competition: The problem with joining an established marketplace like Skillshare is that you go up against A LOT of other course creators. When you're first starting out, this makes it hard to build momentum (and with it… money!)
No Access To Your Student's Data: The downside of having Skillshare take care of most of the process is that you only play a small part in it. You don't get your student's data, which limits your ability to create a relationship with them. When it comes to creating new products and services, this creates a big problem for you.
Branding: It's all about Skillshare. You don't have much opportunity to place you into the process. Your brand, style, colors, voice… it all gets lost because both you and your students are part of Skillshare's journey.
Low Cost, Low Value: This really is a red flag, not just for Skillshare, but other marketplaces like Udemy. No matter how good your courses are, students will likely perceive them as low value because of the money involved. Depending on what your vision for the future looks like, this could be the biggest red flag of all.
WHO is Skillshare Best For?
There are two big factors that come into play here. The first is whether you're a creative type…
If you are, Skillshare may be the perfect platform for you. It gives you access to an established marketplace of creatives ready to learn. Whereas if you're not a creative type (or you don't serve them), Skillshare isn't the platform you need.
The other big factor is what your plan for the future is.
If you have the desire to build membership sites, coaching products, and a whole new business on the back of your course(s), Skillshare won't help you achieve this. You don't get the necessary access to your students, and everything focuses on Skillshare (it sometimes feels like you work for them).
However, if you want to keep your life simple, have someone take care of most of the process, and simply earn a decent side income for a few hours each week… Skillshare could be ideal.
These are the two big factors to consider when choosing Skillshare. It's a great platform for some but not for many others. The good news is, there are other online course platforms to choose from.
Let's look at a few of these before we end this Skillshare Review 2020.
Skillshare vs. Udemy
A platform that shares many similarities to Skillshare, but isn't solely aimed at Creatives is Udemy.
As the largest online course marketplace, Udemy literally connects you with millions of students. It has a course for everything and serves every industry you can imagine.
We've created a Skillshare vs. Udemy Comparison that you may find helpful when choosing the right marketplace for you and your courses. To open this Skillshare vs. Udemy Guide in a new tab, click here.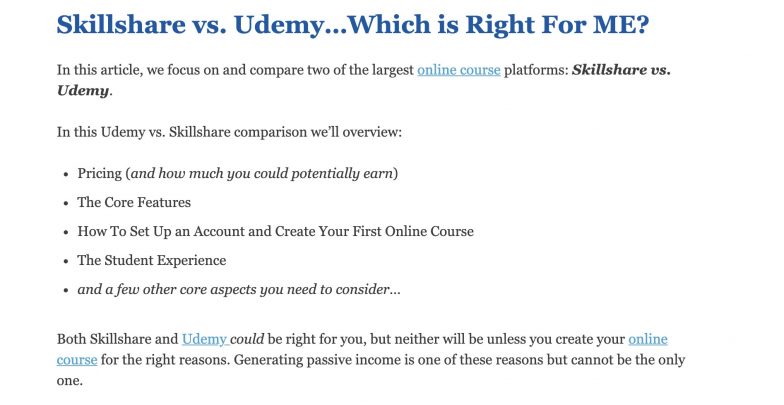 Other Skillshare Alternatives
Of course, there are other options available that extend beyond marketplaces like Udemy and Skillshare. We have both reviewed and compared many of these platforms against one another. We encourage you to bookmark all of these for later, because finding the perfect platform really does matter.
Between these guides (and this Skillshare Review 2020), you're certain to find the right platform.
Take the time to study each guide and relate everything to your needs. The last thing you want to do is choose a platform only to switch everything over a few months down the line." quote="Take the time to study each guide and relate everything to your needs. The last thing you want to do is choose a platform only to switch everything over a few months down the line.
We've seen students do this, and creates a lot of stress — let alone a waste of time and money.
The Verdict: is Skillshare Right For YOU?
Only you can say whether Skillshare is right for you.
It's an ideal platform for many but doesn't tick all the boxes for others. Use your time wisely at this point, study what you need to, and make the best decision you can. Choosing the right platform is important and it does have an impact on the rest of the Online Course Creation Process.
It is NOT the only part of the process, though, so although you need to do your research, don't forget about the rest of the process.
This is why we created our FREE Course Builder's Bootcamp. It takes you through the complete process, showing you what to do and when, and what to avoid along the way. We invite you to enroll in this Free Bootcamp so you can set yourself up for long-term success.
FREE Course Builder's Bootcamp!
In just 6 days, learn all the essentials to create a successful online course!